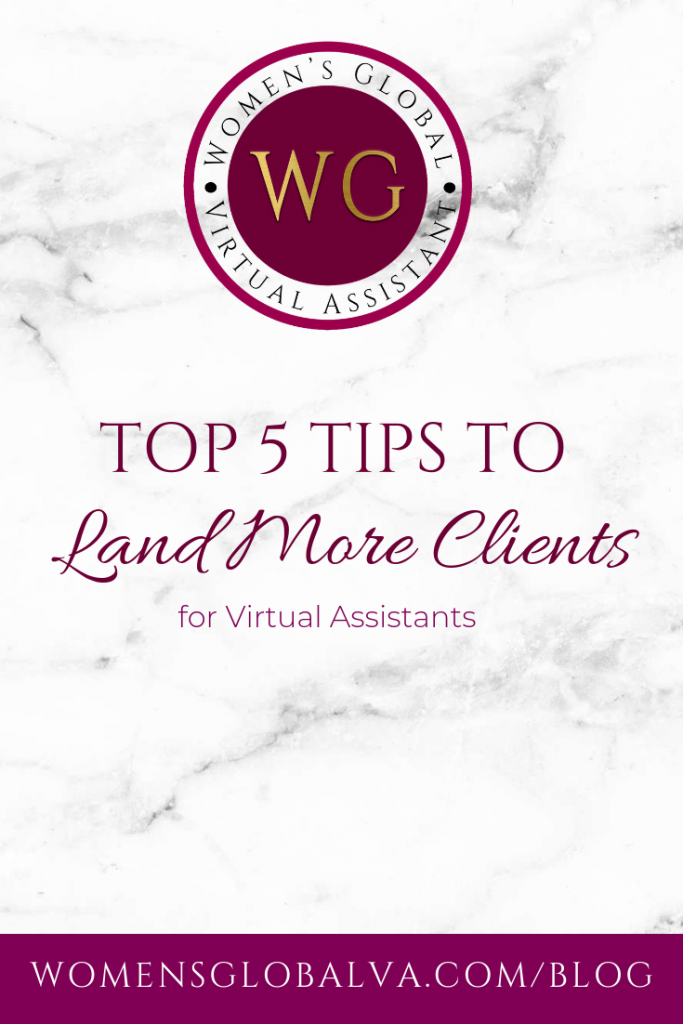 TOP 5 TIPS TO LANDING MORE CLIENTS
OFFER VALUE
Have you ever come across a #jobopp and found that hundreds of VA's were applying for the same position? If you're new to the VA world or just getting started, you might not have a fancy website, and you might have zero VA experience in the past. Can you still land clients? ABSOLUTELY YES. Can you still stand above the competition who might have more experience than you? YES!
Here's the thing, you honestly DO NOT need a fancy website or anything fancy to get your prospects business. You don't even need past experience in virtual assistance. What you do need is to show that you are an asset to your prospect, and you can do this by providing value FIRST.
Find a way to serve them to show that you truly  are invested in their success and care about their business thriving. When doing this, you don't have to give anything super elaborate, it can be as simple as acknowledging their pain points and giving them a sample of the solution you have for them.
2. SEEK TO BUILD RELATIONSHIPS
The key to getting NOTICED is building relationships with your ideal clients. This is so important because when they are looking to hire an expert with your skillset, YOU will be the first in their mind. They will already know that you are someone they trust, they are comfortable conversing with, and will feel confident knowing that you will take care of their business needs. Building relationships is the KEY to this business and standing out from the rest.
3. KNOW YOUR WORTH
Be confident and charge a reasonable price for your services. When prospects come to you, they expect you to be the expert in what they are seeking help with. If you're not an expert, then in the least, they expect that you are a problem solver and will find a way to get it done or at least be transparent if this is totally not your jam. But knowing your worth is so important when talking about how much your services cost. If someone comes to you for a project and you feel you are worth $40/hour but they tell you they are looking to hire you for significantly less, and then you say "Okay I'll accept $5/ hour" they know that you are NOT confident in your abilities to deliver quality services. When you stick to your prices, prospects understand not to even ask for a lower rate, because you ARE confident in what you do, and you DO offer value that is worth whatever you say it's worth! It builds a level of trust and respect, when you stick to what you know you're worth.
4. #1 CLIENT EXPERIENCE (HAVE YOUR PROCESSES READY!)
Clients want a seamless experience. One that is easy, and simple. The easier and more simple you can make your client onboarding and communicative process, the more likely they are to hire you. Clients are looking to optimize their time, not waste it on trying to figure out the simple things like, how or where to sign your contract, or how to get a hold of you. Have your system ready to go before you try to get clients. So that when you do get their attention, you are ready to onboard them and start working without a problem. I highly recommend having all your proccesses automated in one place like Dubsado! If you check out my affiliate link, you get 20% off! You can try it free up to 2 clients! If you need help getting your processes ready, email me at: hello@womensglobalva.com to get you started today!
SIGN UP FOR DUBSADO NOW
5. BE PREPARED
This is KEY. If you've had the opportunity to get on a discovery call with a client, always BE PREPARED. This means, do your research of your client thoroughly beforehand. This means not only knowing their business through and through, but also knowing them on a personal level. Connecting on a personal level is also soo important, because when it comes to them vetting through which VA they want to hire, most are not just looking for quality of service, they are also looking to see who they vibe with the best and feel they can have the best business relationship with.
---
If you feel that you've been trying to land clients but feel that you are  struggling, let me know in the comments what areas you feel you are struggling with the most. Are you utilizing all 5 areas we spoke of today?
If you are overflowing with clients, let us know in the comments, some of your tips for being so successful in your business!
Liked this article? Share it with your friends!