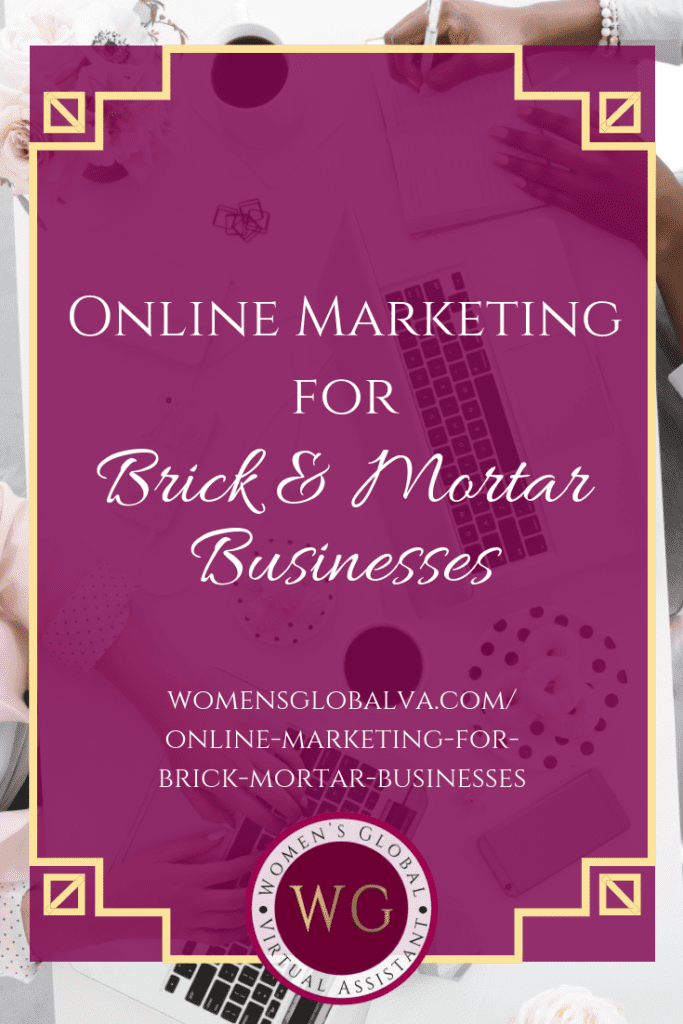 Today, I'm talking about online marketing for brick and mortar businesses and why your business needs to be utilizing effective online marketing strategies to generate leads that lead to loyal conversions. Specifically, we are addressing Social Media, Email Marketing, and Web Presence.
If your business is struggling to get loyal customers, and you feel like your business is going down under, or barely staying at float, that means it's time to take a look at what you're doing. Find out what's working for your business, what's not, and place your investments in areas of your business that will help your business thrive so that your business can reach the next level of success. If your business has been doing well without online marketing for so many years, now is the time to start so that your business isn't left behind the curb.
In my area, small businesses are constantly opening, the worse part is that most of these businesses only last about a few months before they close. Bottom line, they fail to thrive. So I decided to talk to a few business owners to figure out what their pain points are in their business, and one of the biggest shocks to find was that some of these business owners have invested hundreds of thousands into opening and starting up their business, but never put much of their investment into marketing their business. They simply thought people would show up! And really, this goes to show, how important it is that you understand your customer base, their habits, and how to lure them into your services or products by taking approaches that are appealing to your ideal client.
In a competitive global market, if you're not on the map, then your business is not going to get recognized. So many brick and mortar businesses think they don't need to be on Social Media. If you're one of these business owners, your business is in trouble.
There are businesses that have been around for over 20 years thinking that because they have been around so long they don't need to invest in online marketing, or don't need to be on Social Media.
I walked into an old coffee shop just like this, and come to find on the next visit they were CLOSED! They were equally as shocked as the community. Here's the thing. You may have some loyal customers for many years that love your services and products. But, if you're not constantly growing your business to attain new customers, then your business will not thrive. Some of these businesses rely heavily on word of mouth. But in this time we are in, people are talking about local businesses on Yelp and social media.
The perk of Social Media is that people can recommend your business on their profile, to their inner trusted circle of friends and families. If you are on social media, they can tag your account and find out what your business has to offer, times you open, close, and what's good, new and exciting at your place. They get to read the reviews of what others recommend and love. In just a few clicks, you could have new customers wanting to test out your services or products.
The problem with not being on Social Media is that even if someone is talking about your business and you don't have social media for your business, then they can't tag your business. This means that the new potential customer will have to google it— and this is just too much work for someone who is not sold on your products or services yet. You want to make it easy for them to gain access to your business and all the information they need. Social Media is a great tool to utilize to getting your current customers to generate more potential customers through word of mouth recommendations through Social Media. Key here is you need to be using your customer base to generate more potential customers. If you aren't, then you're going to have a hard time getting new customers. People want to know what other's are saying about brick and mortar businesses, and they want to know what their experiences are so that they can want to go and purchase something that appeals to them or benefits them in some way.
Build Local to Global Community
You also want to build a sense of community with your customers, because it is this close sense of community and customer service that shows you care, that will get them coming back for more and enjoy the quality or products and services you offer. Social Media has that ability to build a sense of community where not just locals but people world wide can talk about your business and recommend it globally. Some of the most successful brick and mortar places have people world-wide come visit just to test out their services, products, and experience the brand in person.
There are many avenues of marketing. Online marketing through social media, email capturing can be great investments with high returns on your investment, because ultimately it's these forms of marketing that will connect you with your ideal customers, and make them want to come back for more.
Here's the other shock, I asked a few business owners if they even had a website. Many said "No" and those that said "Yes" I asked if their website was capturing any emails, they said, "No, for what?"
Invest in a Website
First, invest in a great website that serves your business well and meets all the needs so that your business works for your business goals. Make it professional and appealing, and make sure it is setup so that people can get the information they seek, know how to connect with your business's community (social media links), and make sure to add in an email capture form because these are potential customers you don't want to miss out on. Sure there are free or affordable websites that you can do-it-yourself such as
WIX
, which offer easy to use drag and drop features. But I would highly recommend you use a professional to design your site because a website is much more complicated than visual appeal. I would also recommend a platform such as
WordPress.ORG
if you are a business owner you should not be wasting your time trying to figure out how to set this all up. Let a professional handle it, so that you can work on other aspects of your business.
Leverage Email Marketing
Next, invest in email marketing. Emails are wonderful ways for you to personally communicate with your customers or potential customers to let them know what's new and exciting, and you can also offer them coupons, discounts, rewards, community engagement opportunities. People get excited about emails. I know every time I get a store email I subscribed to, I'm pumped because I know some goodie incentive is within that email! Emails build personal connections with your customers and are a great way to put your products and services right in their face to get their attention.
If you're a business owner that feels you don't have a budget for online marketing, you should rethink your business plan and strategies because online marketing is where the party is at aka, where the return on investment really is at. Social Media used effectively can increase your bottom line, by generating more customer leads, that become loyal customers. Don't be left behind the curb. It's time your business thrives. It's time for that next level of success with social media.
If you're interested in getting started with online marketing whether that's email marketing or social media marketing or even setting up a website that works for your business needs, contact me today for a free consultation:

hello@womensglobalva.com