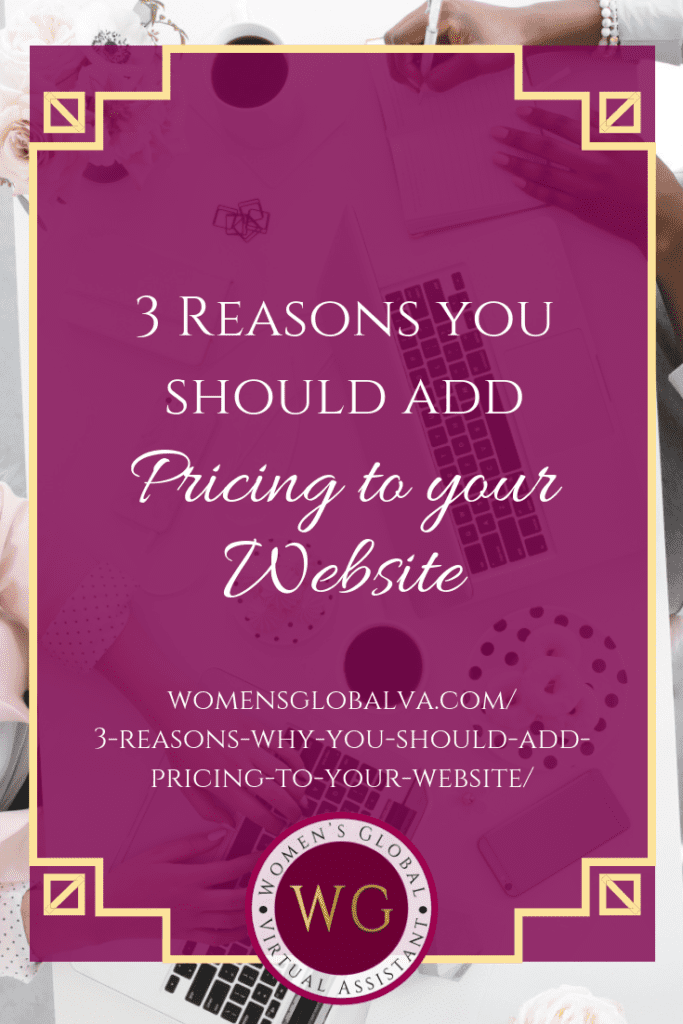 To add pricing to your website, or not to add pricing to your website?— That is the question today.
Many new virtual assistants often wonder if putting their pricing and packages on their website is a good idea, or if they should save that for a private email or call.
Of course, many people run their business differently. But here are 3 reasons why you should add the pricing to your website.
1. Easy Client Experience
When you have a potential client checking out your website, they want to know what you do, how you can help solve their problems, and what it's going to cost them.
I know personally, as of recently, I was looking for a new system to incorporate into my business. All the details seemed great and like it would be great for my business, but it was unclear on how to find out how much that service would cost me. I literally wasted about 30 minutes of my time, even trying to contact support to figure it out. Turned out they made you do a trial, and you had to wait till after the trail to find out the final price of the service. I mean are you serious? As the wise, Kimberly "Sweet Brown" Wilkins said in her own words, "Aint nobody got time for that!"
The truth is, that time is valuable and if your potential client cannot find your prices on your site, and you're asking them to jump through hoops to figure it out, chances are they aren't going to do it. They will just move onto the next virtual assistant that does provide easy access to this information on their website. Which brings me to my next point:
2. Saves Time
It's important that as a Virtual Assistant (business owner) that you are maximizing your time, and not wasting your (potential) client's time. Imagine having to go through a business call and everything seems great, your client is so excited to start your services and then you come to the money talk, to find out that their budget was wayyyy below your packages and pricing. Then you realize there is no way they can afford your services. Well, now you just wasted your time and their time.
The great thing about having your prices on your site is that your clients can gauge if they can afford your services, therefore not waste anyone's time when discussing services.
3. Predictability for the Future
When your prices are on your website, and you have a potential client that really wants your services but perhaps at that time when they take a look at how much your services cost, they realize they cannot afford them. Having your prices on your site can greatly benefit even this type of potential client because although they can't afford you now, they may work towards putting aside a budget and save up their money so they can afford you in the future. Therefore, you haven't lost a client, you simply have gained one, at a time in which they can afford your services at a later date.
Helpful Tip!
Here's a handy tip, when you do decide to put your prices on your website. Sometimes your prices may vary depending on the client's needs and you don't want to short-change yourself by providing one price for something that in this case my cost this client a bit more than the average client. To avoid short-changing yourself, always add in "Starting at…." to your prices. So instead of saying, $2,000 for Social Media Management, you can say, "Prices starting at $2,000 for Social Media Management" that way there is that leverage in which you can adjust prices according to your clients needs, but at least your client now knows what the minimum price is for your services.
Hope this helped you decide on whether or not you want to add in your prices to your website. Let me know in the comments, do you put your prices on your website, why or why not?